September 13, 2022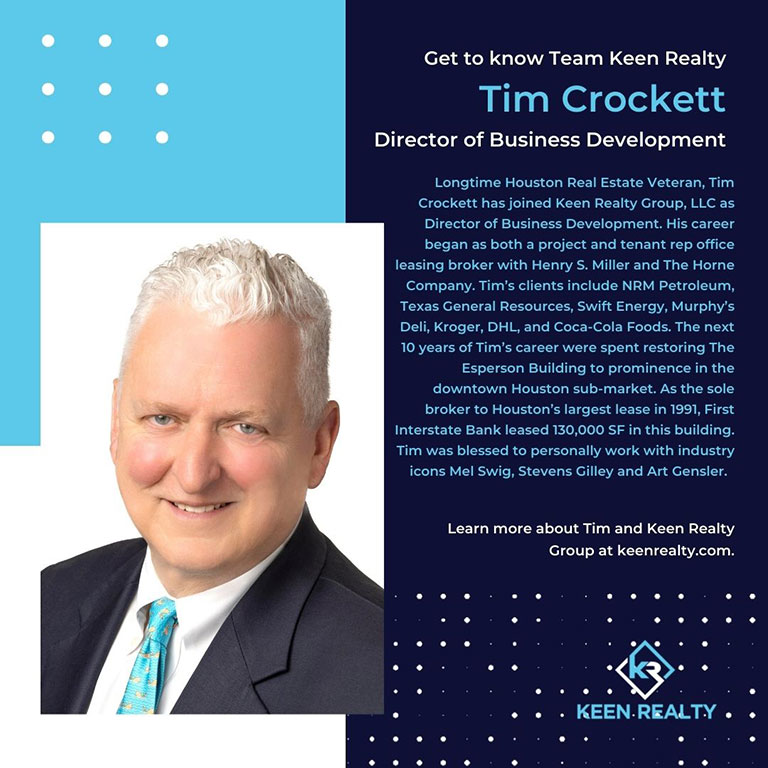 Tim Crockett joins Keen Realty Group, LLC as Director of Business Development
Longtime Houston Real Estate Veteran, Tim Crockett has joined Keen Realty Group, LLC as Director of Business Development.  His career began as both a project and tenant rep office leasing broker with Henry S. Miller and The Horne Company. Tim's clients include NRM Petroleum, Texas General Resources, Swift Energy, Murphy's Deli, Kroger, DHL, and Coca-Cola Foods.  The next 10 years of Tim's caeer were spent  restoring The Esperson Building  to prominence in the downtown Houston sub-market.  As the sole broker to Houston's largest lease in 1991, First Interstate Bank leased 130,000 SF in this building. Tim was blessed to personally work with industry icons Mel Swig, Stevens Gilley and Art Gensler.
In 1994 General Motors selected Tim to participate in a study team as a test driver for the first ever production all electric car. Tim was selected largely in part for his suggestion that office building garages be used as recharging stations.  He helped Granite Properties build and lease their buildings in both Sugar Land (Noble Drilling) and Park Ten (Accenture) before moving to help redevelop and lease Houston's largest block of Class A space at Park Towers on the West Loop, where he was instramental in helping create Houston's first "Google" style workspace for PentaSafe, Also securing tenants including Cameron International, Houston Business Journal, LeTourneau University, and AT&T.  Tim was instrumental in creating Houston's first known wireless internet hot spot at the Park Towers project in 2000.  He and a partner later repositioned the nation's largest Class A space, the 1.3 million SF former Enron headquarters.
He has been a leader in sustainability, co-creating and leading PACEHouston.com which makes PACE 100% financing available to property owners wanting to do energy efficiency upgrades for improvements such as new chillers, HVAC controls, roofs, and lighting retrofits resulting in his receiving a Letter of Recommendation from the Mayor's Office, He also founded SmartWaterValve.com, a national distributor for the world's first and only adjustable water flow management device which lowers water usage and thus the associated water bills by an average of 20%. Both of these services are now available to Keen Realty's property owner clients.
Professional Designations/Civic Organizations
USGBC Texas Gulf Coast Council Board
His Father's Heart Ministry Board
Greater Houston Partnership Awarded Life Membership for Outstanding Service
Leadership Houston Graduate & Past Board Member
CoreNet Past Board Member
Downtown Houston Assn Past Board Member & Exec Committee
BSA Leader Cub Master, Asst Scout Master, Chaplain
Interfaith Ministries Past Board Member & Executive Committee
Christian Community Service Center Past Board Member
Houston Livestock Show and Rodeo Committee Vice Chairman
St John the Divine Church
Tim Crockett Texas Real Estate Broker #294482
Education
Texas A&M BBA Finance, Founding Chairman of the College of Business Student Council, Letterman Rugby Team.
At Keen Realty, we deliver competent and professional property management services for commercial real estate owners. Our clients rely on us for peace of mind as we manage the details and complexities of each property with expertise and care.
www.keenrealty.com 346-571-5241
«
Previous
Next
»